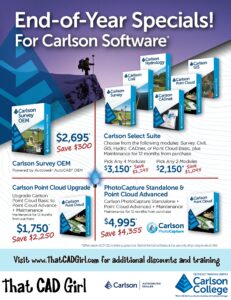 Carlson has recently announced their year-end pricing for desktop software. This year's specials include Survey with embedded AutoCAD (OEM), Select Suite Pick 2, Select Suite Pick 4, Civil Suite and a steep discount to upgrade your Point Cloud Basic to Point Cloud Advanced! Not sure what you need? Click here for our FAQ:P3D? or Point Cloud? then Point Cloud Basic? or Point Cloud Advanced? 
In addition to the specials being offered directly from Carlson, That CAD Girl has additional discounts and pricing for Carlson Takeoff Suite, Takeoff OEM and Point Cloud Advanced. You can find the end-of-year specials listed here and you can also check out our Active Coupon Codes for additional discounts.
What else? All software purchases through That CAD Girl are eligible for half-price registration to our Virtual Workshop and a year's access to our live, interactive webinar training sessions.
Purchases of Carlson Takeoff Suite and Takeoff OEM will also give you a free registration to our 2-day Fast Track with Carlson Takeoff training in January 2023. We aren't just interested in selling you the software – we want you to use it and love it!

Don't forget to subscribe to our YouTube channel where you can find our Picks and Clicks videos plus several "Product Overview" recordings that demonstrate features in different programs.