FAQ
My Maintenance is Current… Where's My Upgrade?
One of the best things about keeping your Carlson Software maintenance plan up-to-date is that you have access to the latest and greatest version of the software whenever you're ready to take the plunge! Some users can't wait to install the newest version as soon as it's released but others wait for the first new Build to be posted and then go for it.
With the building out of your That CAD Girl Customer Portal, we are doing our best to have all the information you need about your serial numbers easily accessible and available to you.
As soon as possible after a new release, we will post your new, upgraded serial number(s) to your Customer Portal and will upload a new maintenance report showing your new serial number(s). However, if you get to this before we do… you can use the Carlson Software Serial Number Upgrade Lookup site to get your new serial number as soon as it's released.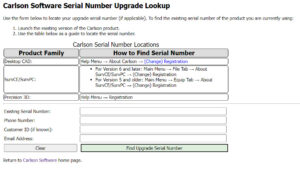 You will need the items listed below. Your serial number and Carlson Customer ID can be found on your That CAD Girl Customer Portal:
Your current serial number
Your Carlson Customer ID
Phone Number
Email Address